Interested in getting a free government phone with Lifeline and the Affordable Connectivity Program (ACP)?Standup Wireless offers just that.
In this guide, we'll walk you through Standup Wireless' services, eligibility, and application process to help you stay connected affordably.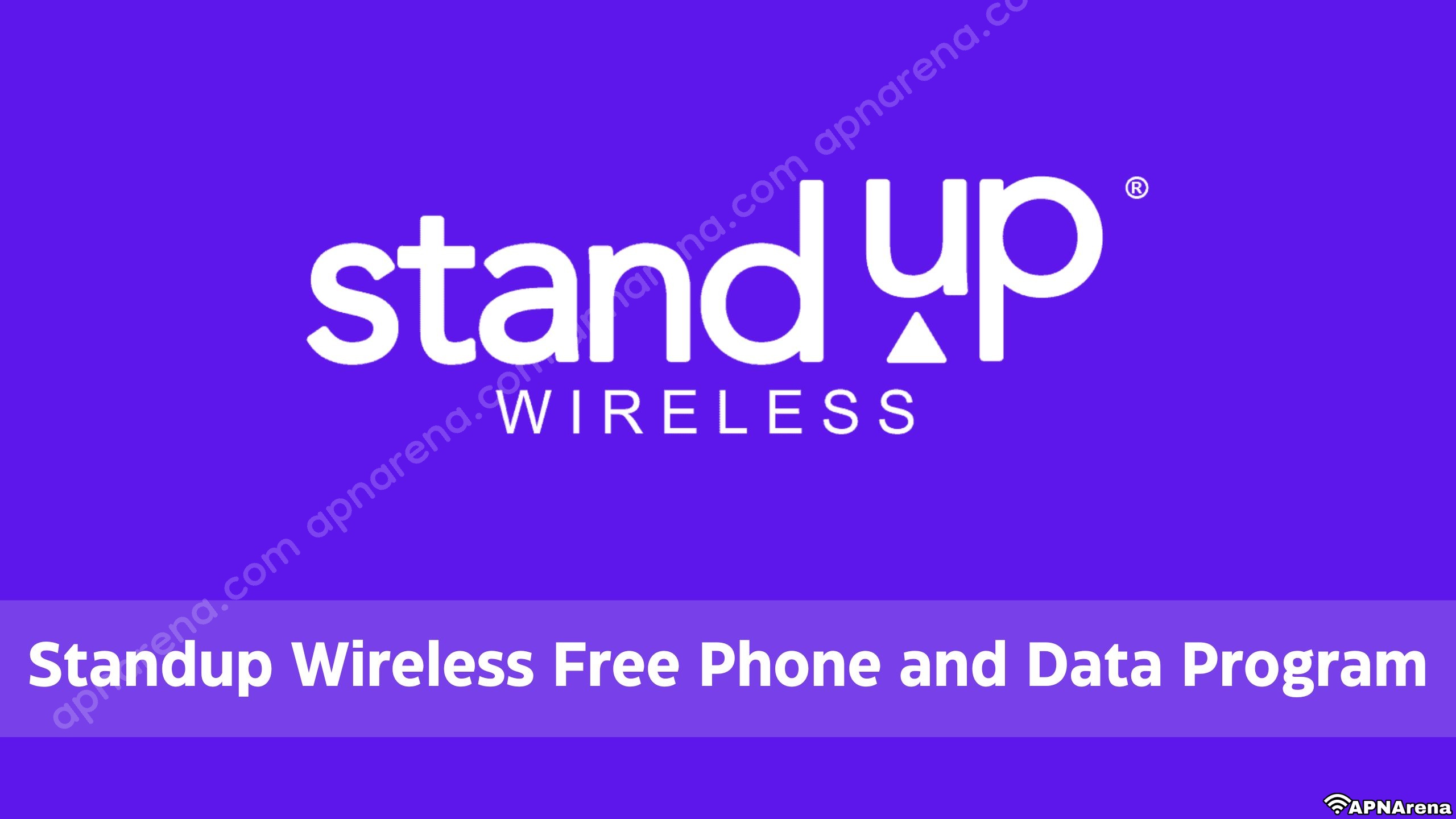 Standup Wireless Free Government Phone and Data Program has emerged as a lifeline for those who cannot afford traditional phone services, providing affordable connectivity to eligible individuals. Lifeline subsidizes monthly service charges, while ACP offers user-friendly management tools for tracking usage.
Tips: Don't forget to properly configure your Standup Wireless APN settings to ensure a seamless and uninterrupted mobile data connection.
The Affordable Connectivity Program (ACP) aims to offer discounted broadband service and connected devices to eligible households.
StandUp Wireless remains committed to providing eligible customers with complimentary wireless service, ensuring they can stay connected to their loved ones, emergency services, employment opportunities, and more.
The free monthly service not only includes unlimited talk, text, and high-speed data but also offers additional low-speed data, ensuring that customers have ample access to all the resources they require through their mobile phones or tablets.
Qualifying for Standup Wireless' ACP | Eligibility Criteria
A household is eligible to receive an ACP discount if a member of the household meets one of the following criteria:
Has an income that is at or below 200% of the federal poverty level;
Receives benefits from: Medicaid/Medi-Cal, SNAP/Cal-Fresh, SSI, Federal Public Housing Assistance, Veterans and Survivors Pension Benefit, WIC, or Lifeline;
Is approved to receive benefits under the free and reduced-price school lunch program or the school breakfast program; or
Received a Federal Pell Grant during the current award year.
ACP eligibility will be determined by USAC's National Verifier and National Lifeline Accountability Database or an alternative verification process approved by the FCC.
To apply, follow this link.
back to menu ↑
Standup Wireless Lifeline Program
Free/Discounted Service
StandUp Wireless is a provider of Lifeline, which is a government benefit program. If you qualify for Lifeline and sign up with StandUp Wireless, you will get free minutes, text messages, and data. You can qualify based on programs like Medicaid, SNAP, Federal Public Housing, Veterans Pension, or your household income.
If you qualify for Lifeline, you also qualify for the Affordable Connectivity Program. Your online Lifeline application will give you access to apply to both programs automatically to ensure that you are maximizing your benefit.
How To Qualify For Lifeline | Eligibility Criteria
To be eligible for the discounted plan mentioned below, you or someone in your household must receive assistance from any of the following government programs:
Supplemental Nutrition Assistance Program (SNAP)
Medicaid
Supplemental Security Income (SSI)
Federal Public Housing Assistance (FPHA)
Veterans and Survivors Pension Benefit
If you live on Tribal Lands, these additional programs also qualify:
Bureau of Indian Affairs General Assistance
Tribally-Administered Temporary Assistance to Needy Families (TANF)
Tribal Head Start
Food Distribution Program on Indian Reservations (FDPIR)
If no one in your household receives assistance from these programs, but your annual income is at or below 135% of the Federal Poverty Guidelines, you are eligible for Lifeline.
For more information on eligibility, visit the USAC website.
How to Apply for Lifeline Program
To apply for Lifeline benefits, start by visiting the National Verifier website. You can also download and print the 8-page paper application and mail it to the provided address.
Make sure you have the required documents as proof of eligibility, and remember to send copies if you're mailing the application.
After your Lifeline application gets approved, head over to the StandUp Wireless website to complete their online application. Keep in mind that they may ask for similar documentation as required for the Lifeline application.
back to menu ↑
Standup Wireless Lifeline and ACP Benefits
Unlimited Talk, Text and Data
Find out how you can take advantage of discounted phone plans and free internet services with StandUp Wireless. There are two types plan provided for you. Check the details below.
Lifeline/ACP Plan
FREE when you bundle your Lifeline and ACP Benefits ($40 Savings)
Plan Includes:
10GB of High-Speed Data – 5G/4G LTE
Unlimited Additional Data
Unlimited Talk & Text
Nationwide Coverage
Plus a FREE phone*
Lifeline Only Plan

If you choose the free Lifeline plan, you'll get:
1,000 talk minutes
Unlimited texts
4.5GB of data.
But if you prefer, you can also check out discounted paid plans available through Lifeline. Visit the website to see what options are available in your state.
Important points to keep in mind:
You need to recertify every year to stay in the Stand UP Wireless Lifeline program. You can do this by calling their hotline at 1-888-966-9093 or downloading the recertification form.
Stand UP Wireless cannot transfer your current cell phone number to their service. You'll need to accept their phone and use the new phone number they assign to you.
The calling territory is nationwide and not international.
Only one Lifeline Phone is allowed per economic unit, and your Lifeline phone is not transferable.
back to menu ↑
StandUp Wireless States of Operation
Availability of Lifeline/ACP
StandUp Wireless has coverage across the country, but they can only offer phone service in certain states. So, to use the StandUp Wireless program, you must be living in one of the following states:
Alabama
Arkansas
Arizona
California
Colorado
Connecticut
District of Columbia
Florida
Georgia
Idaho
Iowa
Kansas
Kentucky
Louisiana
Maine
Massachusetts
Maryland
Michigan
Minnesota
Missouri
Montana
Nebraska
Nevada
New Hampshire
New Jersey
New Mexico
New York
Ohio
Oklahoma
Pennsylvania
Puerto Rico
Rhode Island
South Carolina
Tennessee
Texas
Utah
Virginia
Washington
Wisconsin
West Virginia
Stay connected on your terms with Standup Wireless Top Up Minutes and Data. This convenient feature allows you to increase your allocated minutes and data beyond the standard offering.
Choose your plan from the given tables below:
Basic$5
250
Minutes
250
Texts
250MB
Data
Unlimited $10
| | | |
| --- | --- | --- |
| Unlimited Minutes | Unlimited Texts | 1GB Data |
Unlimited $10
| | | |
| --- | --- | --- |
| 0 Minutes | 0 Texts | 1.5GB Data |
Unlimited $20
| | | |
| --- | --- | --- |
| Unlimited Minutes | Unlimited Texts | 3GB Data |
Unlimited $30
| | | |
| --- | --- | --- |
| Unlimited Minutes | Unlimited Texts | 8GB Data |
Standup Wireless provides a comprehensive coverage map to help individuals assess the availability and strength of network signals in their areas.