Welcome to our comprehensive guide on AirTalk Wireless' Free Government Phone and Activation process. In this article, we'll walk you through everything you need to know about obtaining a free phone and SIM card through programs like Lifeline and ACP. We'll also provide a step-by-step guide on how to apply, activate your device, and check the status of your application. Join us as we make understanding these essential services simple and straightforward. Let's get started!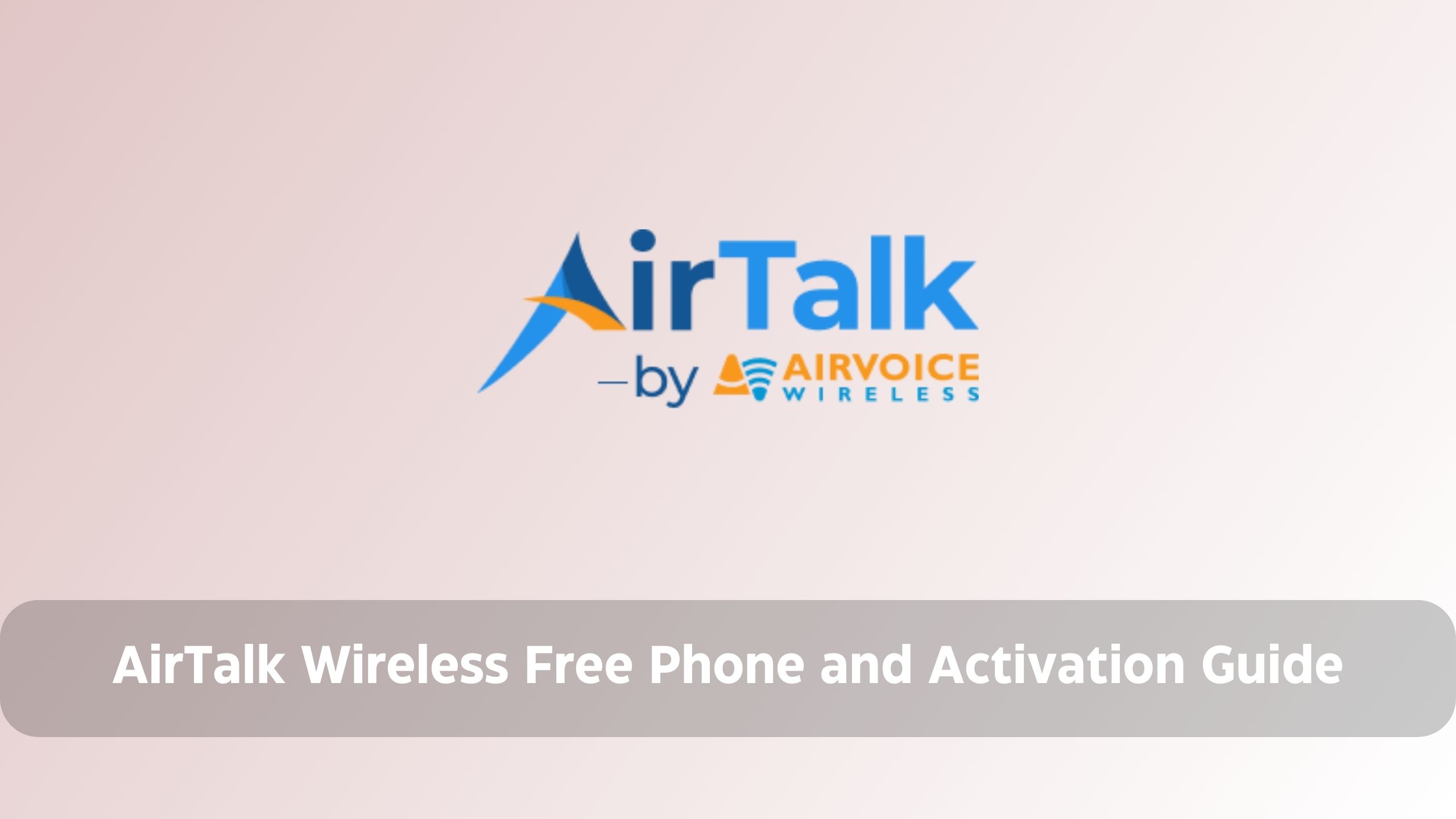 **Note: Make sure to set up your Airtalk Wireless APN Settings for a seamless connection.
AirTalk Wireless' Lifeline and ACP
Free Government Device
AirTalk Wireless takes part in both the Lifeline and Affordable Connectivity Program (ACP). If you qualify for both programs, they provide free brand new government tablets. However, if you only participate in the ACP program, you won't get a free tablet but can get discounted certified pre-owned tablets.
These pre-owned tablets are not entirely free, but they are very affordable. For example, a tablet like the Samsung Galaxy Tab S2 costs as little as $10.01! AirTalk Wireless has a selection of low-cost pre-owned tablets available, but they are only offered while supplies last, so be sure to check their website and act quickly.
Additionally, AirTalk Wireless offers unlimited high-speed data with no contracts, monthly bills, or registration fees along with the tablet.
back to menu ↑
Availability of AirTalk's ACP & Lifeline
States of Operation
While AirTalk Wireless offers nationwide coverage, their services are exclusively available to qualified individuals residing in the following states:
California
Colorado
Georgia
Kentucky
Maryland
Michigan
Mississippi
Missouri
New York
Nevada
North Dakota
Ohio
Oklahoma
Pennsylvania
Rhode Island
South Carolina
West Virginia
Wisconsin
New York
Nevada
North Dakota
Ohio
Oklahoma
Pennsylvania
Rhode Island
South Carolina
West Virginia
Wisconsin
back to menu ↑
How to Qualify for AirTalk's Lifeline/ACP
Eligibility for Free (low cost) Government Tablet
To get the tablet for free, you must meet at least one of these requirements:
Take part in government assistance programs like Medicaid, WIC, Lifeline, SSI, or other similar programs, and provide proof of your participation.
Have a household income at or below 200% of the Federal Poverty Guidelines.
Live on Tribal Land and participate in certain programs like Tribal TANF, Bureau of Indian Affairs General Assistance, or Food Distribution Program on Indian Reservations.
Be part of the Lifeline program.
Please note that the programs listed above are not the only ones that qualify. For a complete list of eligible programs, visit the "Do I Qualify?" page on the USAC Affordable Connectivity Program website.
*The requirements for ACP are the same as Lifeline, so be sure to apply and get approved for both to receive the new free government tablet (instead of a low-cost, pre-owned tablet).
If you were previously enrolled in the Emergency Broadband Benefit Program, your benefits will automatically be transferred to the Affordable Connectivity Program.
More Important Points to Remember:
Prepare the required supporting documentation before filling out the application. Access the National Verifier for lifeline information, and use the AirTalk Wireless online application. Having the necessary documentation will simplify the application and approval process.
To apply, you must be at least 18 years old.
Remember that you will need to recertify your eligibility every year.
back to menu ↑
How to Apply for the Benefits
Application to Receive a Free/Discounted Tablet
After qualifying for Lifeline/ACP, visit the AirTalk Wireless website and click on "Apply". Enter your zip code to find the best plan for you.
Since AirTalk participates in both Lifeline and ACP, you can bundle the free smartphone and tablet for a better deal. By bundling both, you get 15GB of high-speed internet, along with unlimited talk, text, and messaging. If you choose only the tablet, your monthly high-speed limit will be reduced to 8GB instead of the 15GB offered in the combined plan.
Once you've made your plan decision, click on "Apply Now" and complete the application.
How to Check Application Status
To check your application status, either call or visit the Check Application Status page, where you'll need to provide your email address (used in the application), zip code, and the last four digits of your social security number.
Once you receive your free phone and SIM card from Airtalk Wireless by mail, you need to activate them before using them. Follow these steps:
Insert the SIM card into your phone based on your phone type.

Locate the SIM card slot (side, back, or under the battery cover).
Use a SIM ejector tool or a paper clip to open the SIM card tray if needed.
Insert the SIM card correctly into the slot or tray as indicated.
Securely close the tray or cover.

Call 611 and choose option 3 for activation.

Turn on your phone by pressing the power button for 2-3 seconds.
Call 611 from your phone and select option 3 from the menu.
Follow the automated instructions during the activation call, providing necessary information like zip code, date of birth, social security number, and account PIN.
Agree to terms and conditions such as Lifeline certification, customer agreement, and privacy policy as prompted.

Follow any additional instructions that appear on your phone screen.

Set up your voicemail.
Choose your language preference.
Update your software.
Restart your phone if needed.

Wait for a confirmation message indicating successful activation.

The confirmation message may be a text or voice message.
Once you receive this message, your phone and SIM card are ready for use.
---
Conclusion
In conclusion, AirTalk Wireless offers a valuable opportunity to receive a free government phone and SIM card through programs like Lifeline and ACP. By following the provided activation guide and application process, you can enjoy the benefits of staying connected with ease. Don't hesitate to explore these services and take advantage of the convenience they offer. Stay connected and stay informed with AirTalk Wireless!