Interested in securing a free phone and more through the Cellular One Lifeline and Affordable Connectivity Programs (ACP)? In this article, I'll walk you through the process of qualifying for and applying to Cellular One's Lifeline and ACP, ensuring you can enjoy the benefits, including smartphones, data, and unlimited talk and text.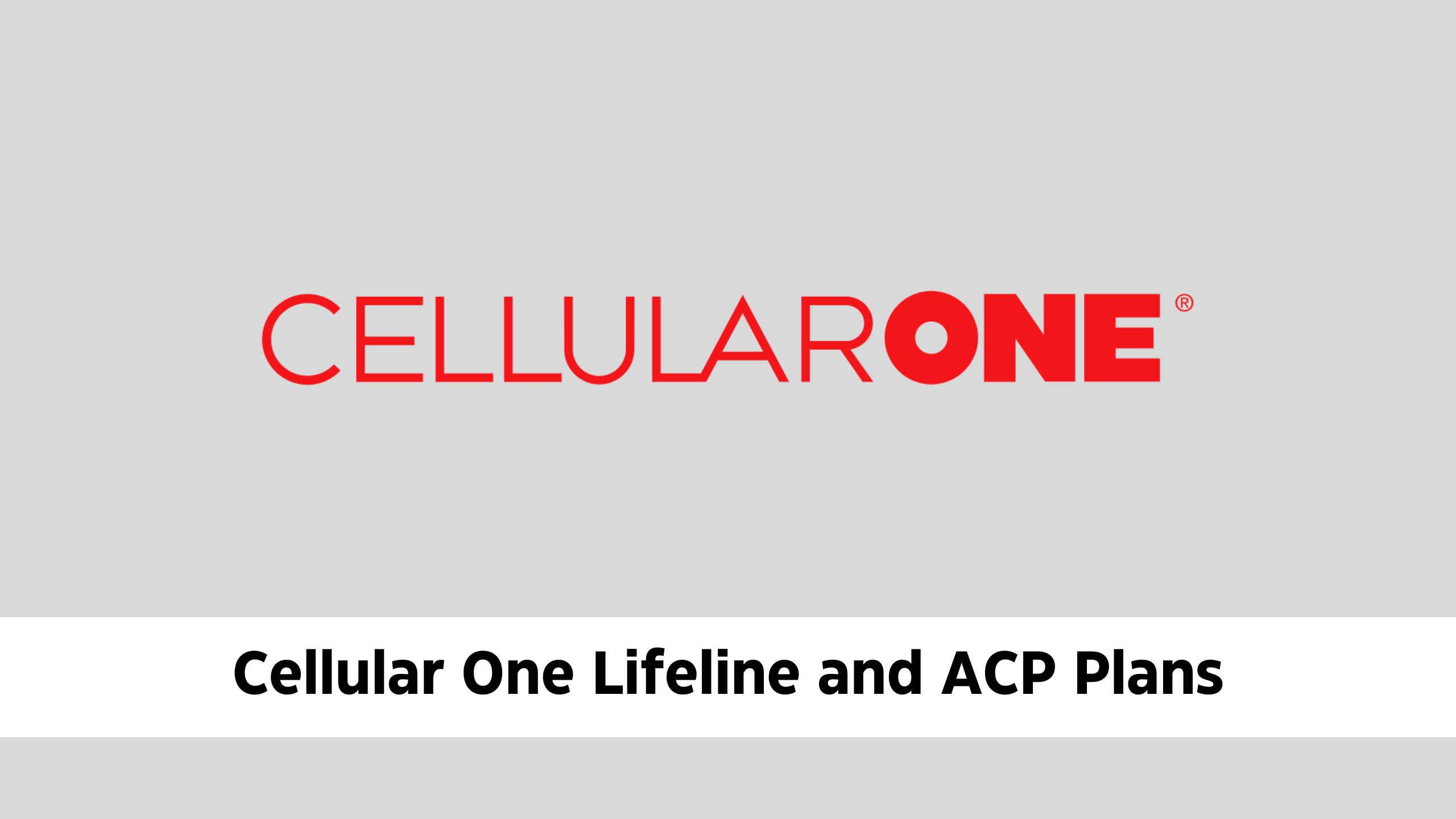 Cellular One is a trademarked brand name that licenses services used by several cellular service providers in the United States. It was sold to Trilogy Partners by AT&T in 2008, shortly after AT&T had completed its acquisition of Dobson Communications. Cellular One operates under the parent organization MTPCS Holdings, LLC, and it was founded in 2005.
Tips: Ensure your Cellular One APN Settings are configured correctly to enjoy a smooth connection.
Cellular One Lifeline Plans
Cellular One participates in the federal Lifeline and Affordable Connectivity programs to offer free smartphones and service to eligible individuals. Their Lifeline services are currently available in Arizona, New Mexico, and Utah.
Here are the plans that are provided by Cellular One Lifeline program:
Free4Life Plan (Tribal Lands):

Unlimited Facebook usage.
5GB of LTE data every month.
Unlimited texting.
Unlimited talk time (excluding 900 numbers and international numbers).
International calls can be made by prepayment.
Unused data doesn't roll over; use it or lose it.

FreedomFone Plan (Arizona and New Mexico Residents):

Free Smartphone.
1,100 talk minutes.
1,100 texts (limited to 160 characters each).
5GB of data per month.
No international calling.
900 numbers are blocked.
Unused data cannot be carried over.
Adding Additional Talk/Text/Data: If you need more airtime, texts, or data than your plan provides, you can purchase additional:
Data: Starts at $10 per month for 1GB, up to $60 per month for unlimited.
Talk/Text: Costs vary from $0.20 to $0.35 per minute.
For up-to-date pricing details, visit Cellular One's data bundles and recharge-prepaid pages on their website.
back to menu ↑
Cellular One Affordable Connectivity Plan (ACP)
The ACP offers free unlimited shareable data along with unlimited talk and text. If you're not sure what "shareable data" means, it's a good idea to discuss it with a Customer Service Representative to understand what this plan includes.
Please note that the Affordable Connectivity Program offers discounts of up to $30 per month for internet service, and up to $75 per month for those living on qualifying Tribal Lands. You can choose any Cellular One plan and apply the ACP discount to it.
back to menu ↑
How to Qualify for Cellular One Lifeline
To qualify for the Cellular One Lifeline program, you need to meet certain criteria:
For Lifeline:
Your household income should be at or below 135% of the Federal Poverty Guidelines.
Or, you must participate in one of these government assistance programs:

Federal Public Housing Assistance (FPHA)
Supplemental Nutrition Assistance Program (SNAP), formerly known as Food Stamps
Medicaid
Supplemental Security Income (SSI)
Veterans Pension and Survivors Benefit
Tribal Programs (if you live on federally-recognized Tribal lands), which include:

Any of the federal assistance programs listed above
Bureau of Indian Affairs General Assistance
Head Start (only for households meeting the income qualifying standard)
Tribal Temporary Assistance for Needy Families (Tribal TANF)
Food Distribution Program on Indian Reservations
You must provide proof of your program participation and have valid government-issued identification, such as a passport, driver's license, or military ID. You also need to provide proof of your existence. Here's an example of acceptable documents:
Proof of Program Participation: Documents showing you're part of one of the qualifying programs.
Identification: Government-issued ID like a passport, driver's license, or military ID.
Proof of Existence: Documentation to confirm you are alive.
back to menu ↑
How to Apply for Free Phone and Service
To get the free phone and service through Lifeline/ACP, follow these steps:
Apply Through the National Verifier: Start by applying through the National Verifier, which typically takes around 30 minutes if you have all the required documentation.
Application Approval: Once your application is approved, you can proceed to the next step.
Apply for Service: Visit CellularOne's website or go to one of their retail locations to apply for the service.
back to menu ↑
Things you should remember
Here are some important Lifeline tips to keep in mind:
One Phone Plan per Household: Only one Lifeline phone plan is allowed per household.
Lost or Stolen Phone: If your phone is lost or stolen, contact Cellular One immediately so they can suspend the service.
Monthly Replenishment: Your monthly airtime and data renew based on your activation date. For example, if you activated your service on the 2nd of the month, expect it to renew on the 2nd of each month. Dial *123 to check your balances.
Regular Usage: To maintain Lifeline benefits, use your phone service at least once every 30 days. Otherwise, you risk losing your Lifeline benefits.
---
In conclusion, I hope this article has been informative and helpful in understanding Cellular One's Lifeline and ACP programs. If you have any questions or encounter any issues while applying for these valuable services, please don't hesitate to leave a comment below. Your feedback is important, and I'm here to assist you further.