Are you looking for budget-friendly internet plan and discount on your packages? Well, you're in luck! In this article, I'll dive into CenturyLink's Internet Plans and how you can save some cash through Lifeline and the Affordable Connectivity Program (ACP), along with the steps to see if you qualify and how to apply.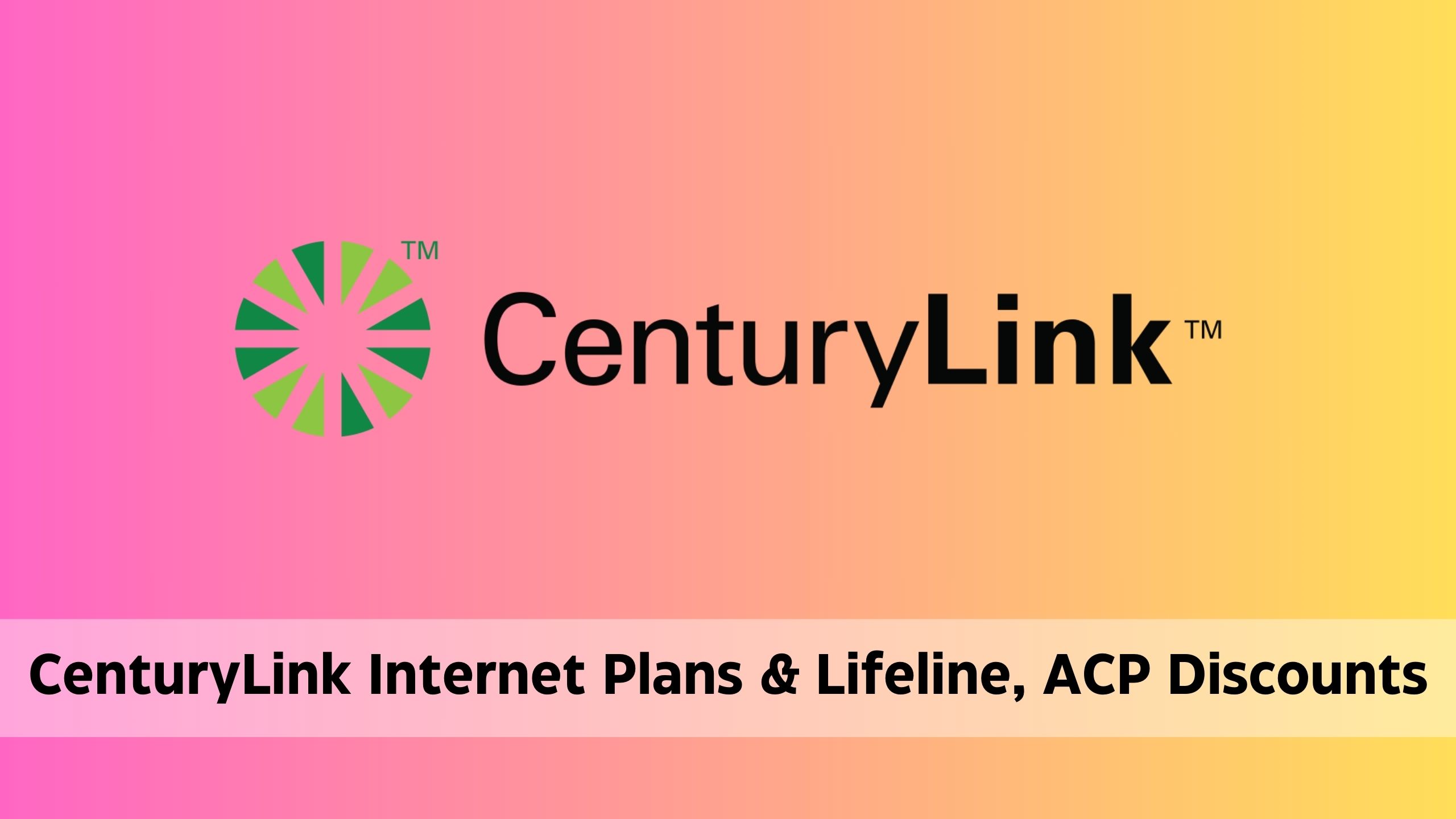 Tips: Remember to configure your CenturyLink APN Settings to ensure a smooth and uninterrupted connection.
CenturyLink Lifeline and ACP Plans
CenturyLink, a part of Lumen Technologies, is a telecom company that's part of the Lifeline and Affordable Connectivity Programs. These federal programs offer discounts to help low-income families get phone and internet services.
CenturyLink Discounts:
Lifeline: $9.25 off internet, $5.25 off voice services.
Affordable Connectivity Program (ACP): Up to $30 off internet for families not on Tribal Lands, and up to $75 off for families on Tribal Lands.
back to menu ↑
CenturyLink Plans and Pricing
CenturyLink has two phone plans:
Basic Plan:

Unlimited local and long-distance calling.
International calling with 500 minutes per month to select countries.
Usual services like 911, caller ID, Call Waiting, and easy setup.
Costs $30 per month per user.

Professional Plan:

Includes all basic features plus:

Receive calls on PC and phone.
Conference calling.
Instant messaging.
Screen sharing.
File sharing via instant message.
Video conferencing.
Receive faxes by email.

Costs $40 per month per user.
For internet, CenturyLink offers two plans:
Speeds up to 100Mbps:

Unlimited data.
No contract.
Costs $50 per month.

Up to 940Mbps:

Unlimited data.
Free installation.
Modem provided.
No contract.
Costs $70 per month.
If you qualify for Lifeline and ACP, you can apply both discounts to these plans. For example, the $9.25 plus $30 discount applied to the 100Mbps internet plan will reduce the monthly price from $50 to $10.75. Similarly, the Basic phone plan of $30 per month minus the $5.25 Lifeline discount brings the monthly cost down to $24.75.
back to menu ↑
How to Qualify for CenturyLink ACP and Lifeline
To enjoy the benefits of Lifeline and/or ACP, you must meet the eligibility criteria. Here's how:
Income Eligibility:

For Lifeline, your household income must be at or below 135% of the Federal Poverty Guidelines.
For ACP, your household income must be at or below 200% of the Federal Poverty Guidelines.
If you qualify for Lifeline, you automatically qualify for ACP.

Government Assistance Programs:

You can also qualify if you receive benefits from certain government assistance programs, including:

Supplemental Nutrition Assistance Program (SNAP)
Medicaid
Supplemental Security Income (SSI)
Federal Public Housing Assistance (FPHA)
Veterans and Survivors Pension Benefit

Tribal Programs:

If you live on federally-recognized Tribal Lands, you may qualify through specific tribal programs such as:

Bureau of Indian Affairs General Assistance
Tribally-Administered Temporary Assistance to Needy Families (TANF)
Tribal Head Start
Food Distribution Program on Indian Reservations (FDPIR)
Please note that some states may have different names for these programs. If you're unsure whether your program qualifies due to a different name, visit the USAC website to find the various names used by different states for these programs.
back to menu ↑
How to Apply for CenturyLink lifeline/ACP Discount
To apply for benefits, follow these steps:
Visit the National Verifier Website: Start by visiting the National Verifier website to apply for Lifeline and ACP benefits.
Prepare Supporting Documentation: Ensure you have the necessary documents that qualify you for the benefits. These documents may include proof of income or participation in government assistance programs. Make sure they are ready for uploading during the application.
Prove Your Identity: You'll need to verify your identity with a government-issued ID. This can be a driver's license, passport, or military ID. For additional accepted forms of ID and proof of qualification, check the USAC website.
Receive Application Approval: After you submit your application, it is typically approved on the same day. Once approved, you'll receive an ID number.
Apply for Discounts: You'll need this ID number to apply for the monthly discounts from CenturyLink.
California and Oregon Residents: Residents of California and Oregon have a slightly different process. They are not subject to the National Verifier database. If you live in either of these states, visit the governing authority for your state for more information on how to receive benefits. You can find more details on the California Lifeline and Oregon Lifeline websites.
back to menu ↑
Applying for CenturyLink services
Applying for CenturyLink service with Lifeline and ACP discounts is easy. Here's how to do it:
For Current CenturyLink Customers:
Complete the CenturyLink ACP Form: Fill out and submit the CenturyLink ACP form to have the discount applied to your existing CenturyLink account.
Wait for Confirmation: CenturyLink will send you an email notification regarding your application status.
For New CenturyLink Customers:
Get Approved for ACP/Lifeline: First, make sure you're approved for ACP/Lifeline through the National Verifier or your state's authority.
Choose Your Service: Visit the CenturyLink website and select the monthly service plan that best suits your needs.
Complete the CenturyLink ACP Form: Fill out and submit the CenturyLink ACP form to apply the discount to your new service plan.
Wait for Discount Application: The discounts will be applied within one billing cycle, ensuring you enjoy the benefits of the Lifeline and ACP programs on your CenturyLink service.
back to menu ↑
Things to Remember
Here are some important things to keep in mind about ACP/Lifeline:
Monthly Bill Discount: ACP discount applies only to your monthly service bill. Other charges like installation are separate.
Past-Due Balances: You can apply for ACP even if you have unpaid bills with your current service provider.
Combining Benefits: You can get both Lifeline and ACP benefits if you qualify, but only one set of benefits is allowed per household.
Annual Check: You need to confirm your eligibility every year to keep getting these discounts.
---
In short, CenturyLink's discounted Internet Plans, coupled with Lifeline and ACP, offer budget-friendly internet access. It's your gateway to affordable online connectivity.