Interested in getting a free government phone and tablet through Clarity Wireless' ACP? Curious about what this program offers? In this article, I'll guide you through the qualifications and application process for Clarity Wireless' Free Government Phone and Tablet Program. Let's get started!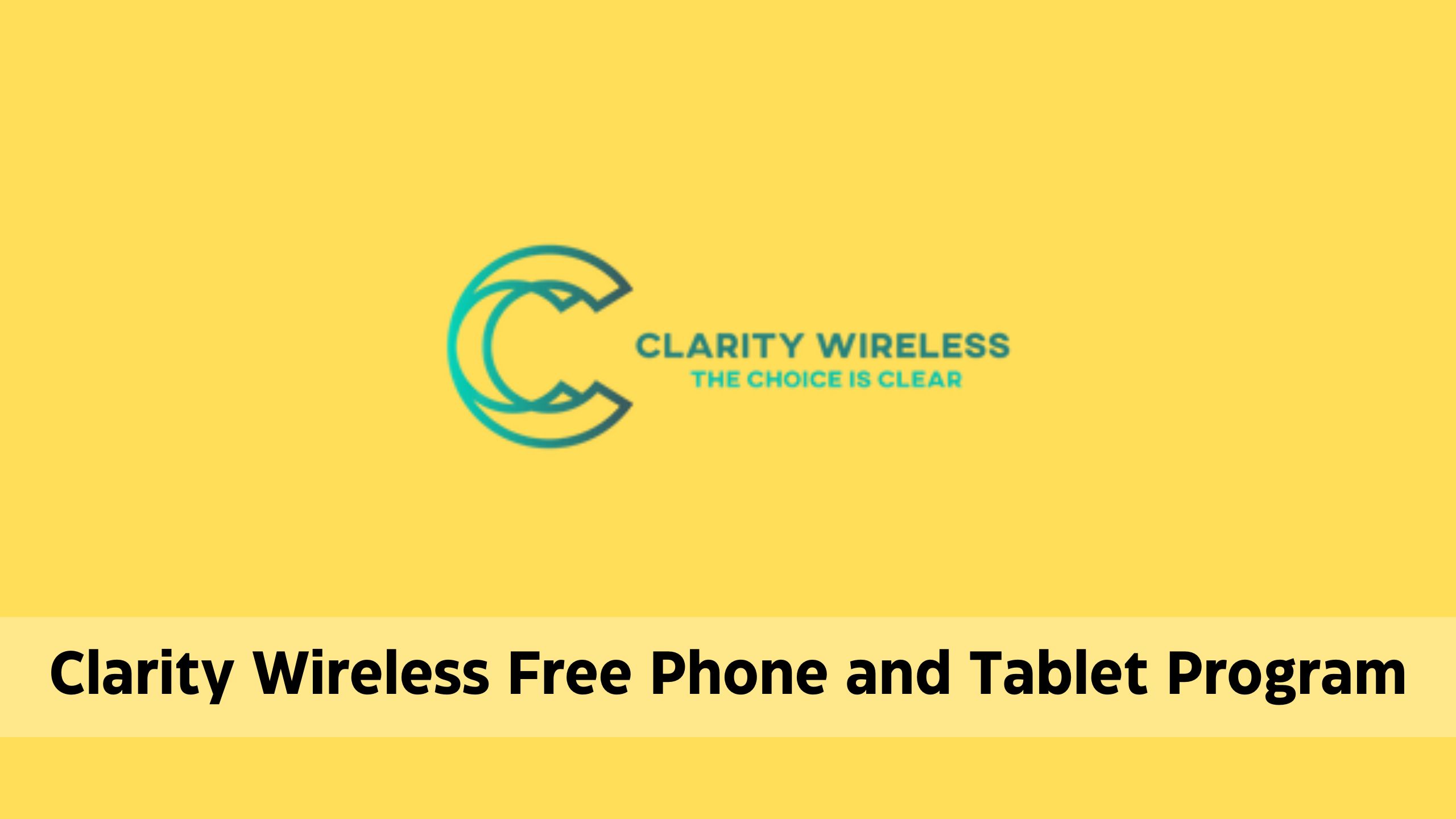 Remember to configure your Clarity Wireless APN Settings to ensure a smooth and uninterrupted connection.
Clarity Wireless Affordable Connectivity Program (ACP)
Clarity Wireless is a local Texas wireless company that participates in the Federal Affordable Connectivity Program (ACP). The FCC's Affordable Connectivity Program (ACP) is a new federal government program committed to bringing connectivity to low-income Americans. Qualifying households can get connected by answering a few questions and submitting your eligibility documents. The program is limited to one ACP benefit per household.
Plans Offered by: Clarity Wireless offers discounted prepaid plans for ACP participants. The prices listed below already include a $30 ACP Federal discount:
Saver Plan: Costs $0 (Free) and includes 5GB of 5G/4G data.
Starter Plan: Costs $10 per month and includes 10GB of 5G/4G data.
Performance Plan: Costs $20 per month and includes 15GB of 5G/4G data.
Elite Plan: Costs $30 per month and includes a generous 45GB of 5G/4G data.
All these plans come with nationwide unlimited talk and text, unlimited 2G speeds after you use up your high-speed data, HD Voice & Wi-Fi calling (if your phone supports it), HD video streaming, Clarity Perks (an app with customer discounts), and Clarity Privacy Shield (caller identification).
back to menu ↑
Government Phones and Tablets by Clarity Wireless
As of September 2023, Clarity Wireless provides an excellent offer for individuals approved for the ACP program. They offer an almost free tablet, specifically a 32GB Hyundai – HYtab Pro 8" wifi tablet. You can get this tablet by visiting their store. However, please note that this offer is available while supplies last, so it's a good idea to act promptly if you qualify and are interested.
When it comes to phones, Clarity Wireless doesn't offer free government phones. Instead, you need to bring your own compatible device. To be compatible, your phone must be fully owned (meaning it's paid off) and unlocked. Newer phones equipped with eSIM technology are compatible, and they can be activated remotely, making the transition to Clarity Wireless smooth. However, if you have an older phone, you'll need to order a physical SIM card to use Clarity Wireless services.
The cost of a physical SIM card is $10, but it's unclear if this fee is waived for those eligible for the Affordable Connectivity Program. Clarity Wireless does offer a payment plan that includes a $2.00 downpayment. It's worth contacting them to inquire about the possibility of having the fee waived. The worst-case scenario is they might say no, but there's a chance they might agree to it.
Remember, the tablet offer is limited, so act quickly if you're eligible and interested.
back to menu ↑
How to Qualify for Clarity Wireless ACP
To be eligible for the Affordable Connectivity Program (ACP) benefits, which include a discounted tablet and free phone service, you need to meet one of the following criteria:
Government Assistance Programs: You or someone in your household should be receiving assistance from one of these government programs:

Medicaid
Supplemental Nutrition Assistance Program (Food Stamps or SNAP)
Supplemental Security Income
Federal Public Housing Assistance
Veterans and Survivors Pension Benefit
Bureau of Indian Affairs General Assistance
Tribally-Administered Temporary Assistance for Needy Families
Food Distribution Program on Indian Reservations
Tribal Head Start

Income Eligibility: Alternatively, your household income should be at or below 200% of the Federal Poverty Guidelines.
back to menu ↑
How to Apply for Clarity Wireless ACP Benefits
To sign up for the free wireless service through the Affordable Connectivity Program (ACP), follow these steps:
Check Eligibility: Make sure you meet the eligibility criteria.
Apply for ACP: Visit the Affordable Connectivity Program website to begin your application.
Approval Process: After submitting your application, it may take between 30 minutes to 48 hours for approval, depending on the volume of applications and the submission of proper documentation.
Receive ID Number: Once approved, you will be provided with an ID number.
Complete Clarity Wireless ACP Application: You will need this ID number to complete your application with Clarity Wireless for the ACP benefits.
After you submit your application to Clarity Wireless, it may take about two days for them to process it. During this time, you should get an email or text confirming your enrollment.
Looking at the Clarity Wireless ACP application, it seems they provide services not only in Texas but also in Alabama.
Make sure to use the exact same information on the Clarity Wireless application as you did on the National Verifier. Changing any details could lead to your application being declined.
When applying for the Affordable Connectivity Program (ACP), keep these things in mind:
Have the necessary documents ready to prove your eligibility.
Only one benefit is allowed per household.
You must recertify each year to maintain your benefits.
If you have a hearing impairment, you may qualify for Clear Captions, a program that helps with voice-to-text transcription.
---
I hope this guide has made it easier for you to understand the Clarity Wireless Free Government Phone and Tablet Program. If you encounter any challenges during the application process or have questions, please feel free to leave a comment below.