Do you want to get free unlimited data through the Good2Go Mobile Affordable Connectivity Program? This article has got you covered!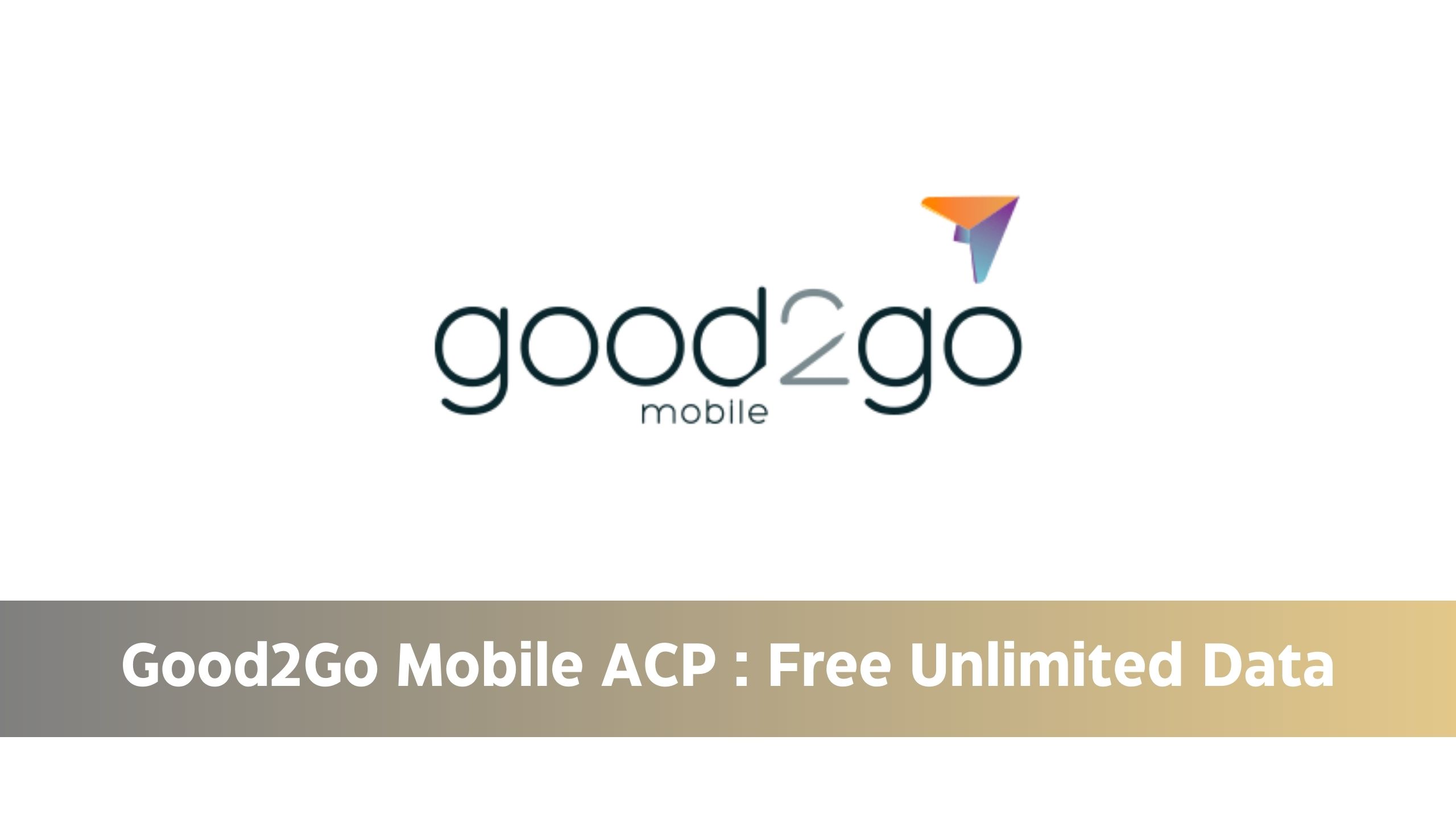 Good2Go stands out as a simple prepaid mobile carrier that operates on both AT&T's and T-Mobile's nationwide cellular networks. In this guide, I'll walk you through the process of qualifying for ACP benefits and how you can enjoy the perks of free unlimited data.
Tips: Ensure your Good2Go Mobile APN Settings are configured correctly to enjoy a smooth connection.
Good2Go ACP Plan
Good2Go Mobile is a prepaid wireless provider that takes part in the Affordable Connectivity Program (ACP). This allows them to provide free services to households that qualify based on low income. Let's take a look at their ACP plan to see if it fits your requirements. The Good2Go ACP plan is contract-free and doesn't come with any costs. This plan provides unlimited talk, text, and data.
For the first 6 GB of data, you'll have high-speed access. Once you've used up that 6 GB, the remaining data is available at a reduced speed. Good2Go's website mentions that if you go over your plan's monthly high-speed data allowance, your speeds might be slowed down to a maximum of 128Kbps. Just keep this in mind as you use your monthly data.
Bring Your Own Phone
With the Good2Go ACP phone plan, they offer a free SIM card activation kit, and they even cover the shipping costs. However, it's important to note that you need to bring your own device for this plan. Your device should be GSM compatible and unlocked. If you're unsure whether your phone is compatible, you can visit their "Check Phone Compatibility" page. By entering your phone's IMEI number and your address, you can find out if your phone works with their service.
The regular price of this plan is $35 per month. Yet, thanks to the ACP discount, eligible individuals can enjoy this plan for free.
Service Coverage: Based on the Good2Go coverage map, they seem to offer coverage nationwide. Additionally, they do cover certain parts of Alaska, which is great. However, it's worth noting that they do not provide coverage in Guam, the Northern Mariana Islands, Puerto Rico, and the US Virgin Islands.
back to menu ↑
How to Qualify for the Good2Go ACP
To enjoy the benefit of free service, you need to meet certain eligibility criteria. To be eligible for the ACP plan, you must fulfill at least one of the following conditions:
Household Income:
OR
Participation in Government Programs:

You or someone in your household should be enrolled in any of these government assistance programs:

Lifeline
Medicaid
Supplemental Nutrition Assistance Program (SNAP)
National School Lunch Program or School Breakfast Program (through USDA, community eligibility provision, and WIC)
Supplemental Security Income (SSI)
Federal Public Housing Assistance
Veterans and Survivors Pension Benefits Fund
Received a federal Pell grant during the current award year
Additional Programs for Tribal Lands:
If you live on qualifying Tribal Lands, these programs are also considered:

Bureau of Indian Affairs General Assistance
Tribal Head Start (if the household meets specific income qualifying standards)
Tribally-Administered Temporary Assistance for Needy Families (tribal TANF)
Food Distribution Program on Indian Reservations
For more details about qualifying programs, you can visit the USAC website. USAC is responsible for overseeing the Lifeline and ACP programs.
back to menu ↑
Important Documents Needed for Applying
When applying for the Affordable Connectivity Program (ACP), you'll need certain essential documents to prove your eligibility. Ensure that all your documents are current, as the National Verifier cannot accept expired ones. Remember, never send the original documents; provide copies or pictures.
Valid Government ID:

You can provide documents such as:

Military state or Tribal ID
U.S Driver's License
Passport
Survivors Benefit Summary letter

These should include your first and last name, date of birth, and future expiration date.

Proof from a Letter or Official Document:

If you're part of any qualifying program, you'll need to offer:

Benefit award letter or Approval letter
Screenshot of online portal
Survivors Benefit Summary letter

The document must clearly mention the qualifying person's name, program name, issuing government or Tribal agency, and a date of issue within the past 12 months or a future expiration date.
You can access a document with examples to guide you through the documents you need for your next step. Download Guide.
back to menu ↑
Simple 3-Step Sign-Up Process
Here's how you can complete the sign up process:
Step 1: Apply for the Program
Complete the Affordable Connectivity Program form and provide your consent.
Step 2: Finalize Your Application
You need to finish your application through the National Verifier. After that, you'll be directed back to Good2Go Mobile.
Step 3: Activate & Enjoy Your Plan
Once your ACP enrollment is confirmed, you'll receive notification. We'll get in touch to verify your enrollment. It usually takes 24 to 48 hours to process your application.
Following these three steps will get you signed up and ready to enjoy your plan.
*For existing Good2Go customers who are eligible for ACP, the process is straightforward. Just get in touch with them and let them know that you'd like to have ACP benefits added to your current plan. They will guide you through transferring to the ACP plan, which comes at no cost.
Important Points to Keep in Mind about ACP:
Lifeline Participants and ACP:

If you're already getting Lifeline benefits, you need to "opt-in" with Good2Go to get ACP benefits. These benefits aren't automatically added for Lifeline participants.

Switching Providers with Outstanding Balance:

Even if you owe money to your current phone provider, you can switch to Good2Go and still receive ACP benefits.

One Benefit per Household:

Only one Lifeline/ACP benefit is allowed per household. This means if you share income and expenses with a roommate, only one of you can be eligible for Lifeline/ACP benefits.
back to menu ↑
Good2Go Coverage Map
This map displays approximate coverage of Good2Go Mobile. Actual coverage may vary.