Are you looking for PCs for People ACP plans? You're in the right spot. In this article, I'll discuss about how to qualify and apply for ACP and enjoy the benefits, along with some more important information. Check the table of contents and get started!
PCs for People is more than your typical wireless internet service provider. They're a nationwide nonprofit social enterprise with a mission to offer affordable computers and internet services to low-income individuals, families, and nonprofits. They're also committed to environmental sustainability by refurbishing used computers.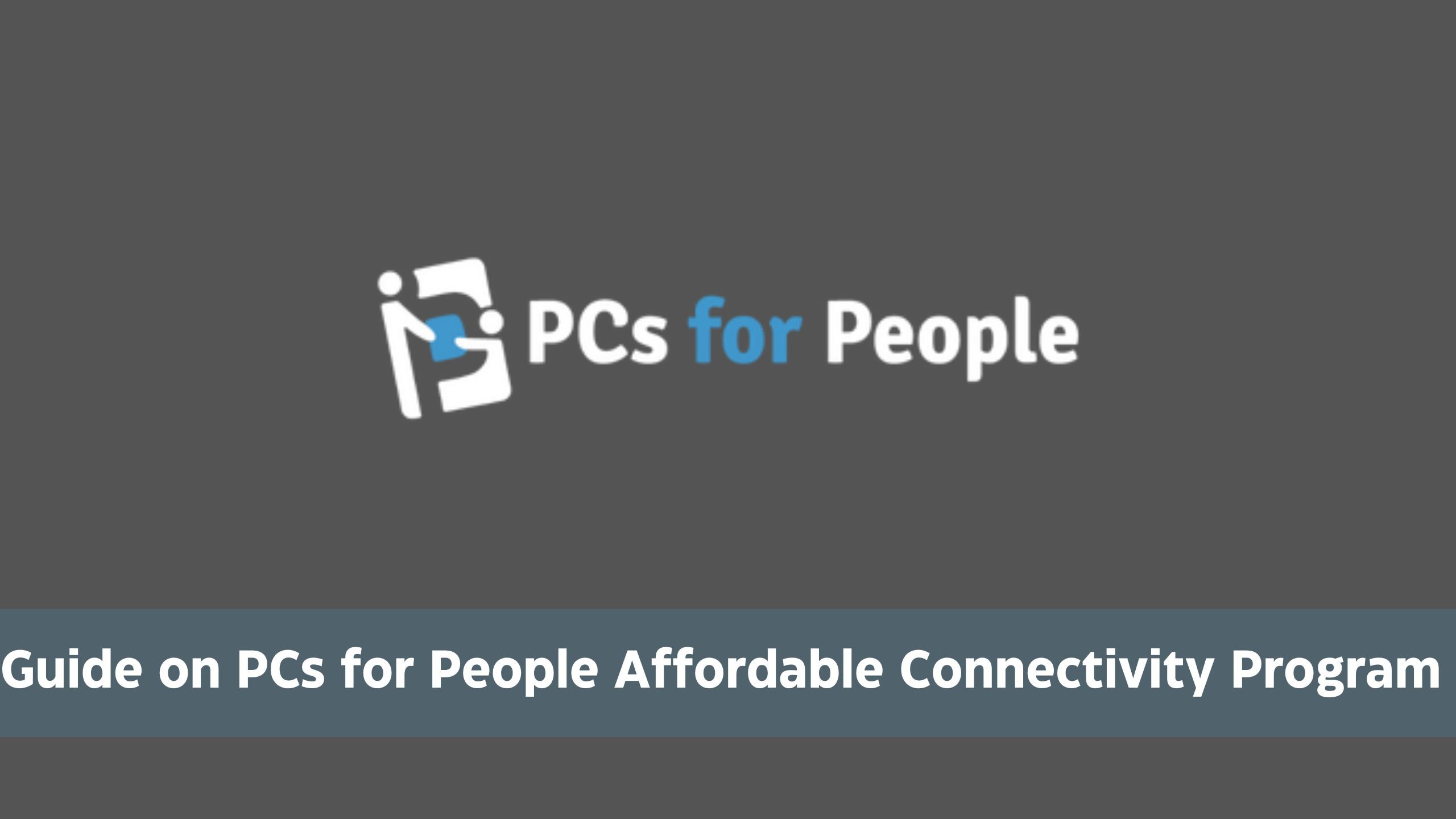 As a part of their efforts to provide computers and internet access to those with low income, PCs for People takes part in the Federal Affordable Connectivity Program (ACP). This program offers a $30 monthly discount on internet service. For households residing on eligible Tribal Lands, this discount increases to $75. The ACP program replaced the EBB, with the aim of providing a long-term solution and will remain in place until funding runs out.
PCs for People Free ACP Internet Service with PCs for People
Given that PCs for People offers internet service for just $15 per month, if you qualify for ACP and choose PCs for People, your service becomes free.
Moreover, along with the free service, eligible ACP participants can enjoy a one-time $100 discount on computer purchases when they sign up with PCs for People. However, you'll need to make a co-payment exceeding $10 but less than $50 towards the computer purchase. Please note that as the computers are refurbished, the available inventory may vary.
back to menu ↑
PCs for People Service Coverage Areas
PCs for People seems to utilize the T-Mobile wireless network. To determine whether they cover your location, you can check their coverage by visiting the "Check Coverage" page. Once you've verified that they offer service in your area, you're all set to move on to the next step.
back to menu ↑
How to Qualify and Apply for PCs for People ACP
To be eligible for the Affordable Connectivity Program (ACP), you need to fulfill one of the following criteria:
Have a household income at or below 200% of the Federal Poverty Guidelines.
Be enrolled in the Lifeline program.
Participate in any of the following government assistance programs:

Supplemental Nutrition Assistance Program (SNAP)
Medicaid
Supplemental Security Income (SSI)
Federal Public Housing Assistance (FPHA)
Veterans and Survivors Pension Benefit
Additional Programs for Tribal Lands: For households living on Tribal Lands, these programs are also considered:
Bureau of Indian Affairs General Assistance
Tribally-Administered Temporary Assistance to Needy Families (TANF)
Tribal Head Start
Food Distribution Program on Indian Reservations (FDPIR)
Ensuring you meet any of these qualifications will make you eligible for the Affordable Connectivity Program.
Once you've met the required criteria, it's time to proceed with signing up for benefits. Follow these steps:
Visit AffordableConnectivity.gov: Apply for benefits by visiting AffordableConnectivity.gov. Before you start, ensure you have the necessary documentation to back up your application. Having the right documents will make the application process smoother. With proper documentation, the approval process typically takes around 20-30 minutes.
Approval and PCs for People Application:
By following these steps, you'll be on your way to accessing the benefits of the Affordable Connectivity Program through PCs for People.
back to menu ↑
PCs for People Recycled and Renewed Computers
While this platform primarily focuses on free government phones and providing discounted phone services, I'd like to bring attention to a remarkable initiative by PCs for People that could be valuable to you or someone you know.
In a world where technology is ever-changing, old devices often end up discarded or stored away. These options aren't beneficial to individuals or the environment. However, PCs for People has found a solution: recycling. They take outdated technology, refurbish it, and give it a new purpose.
These revitalized computers are then offered to individuals who might not have the means to purchase new ones. This approach not only helps divert electronic waste from landfills but also offers a practical solution to those in need. It's a positive step that benefits both people and the planet.
back to menu ↑
PCs for People Accepted Used Technology:
PCs for People accepts a range of used technology items, including but not limited to:
Desktop & Laptop Computers
Keyboards & Mice
Hard Drives & Memory
Power Cords & Cables
Modems & Routers
Servers & Network Equipment
You can find a comprehensive list of accepted items in the PCs for People Electronic Waste Guide.
back to menu ↑
PCs for People Device Drop-Off or Pick-Up:
PCs for People has locations in several states, including Colorado, Georgia, Illinois, Maryland, Minnesota, Missouri, and Ohio. You have the option to drop off your items at these locations or schedule an appointment.
Even if you're in an area without a physical location, you can still contact them to explore options. They are responsive and willing to make arrangements. Their commitment to going the extra mile, such as arranging pickups, is truly impressive.
---
Whether you're considering them as your ACP provider or looking to recycle old technology, PCs for People showcases a commendable operation.