Do you want to get a free government phone or tablet from Qlink Wireless through their ACP and Lifeline program? Or are you interested about Q link unlimited internet packages and hotspot plans?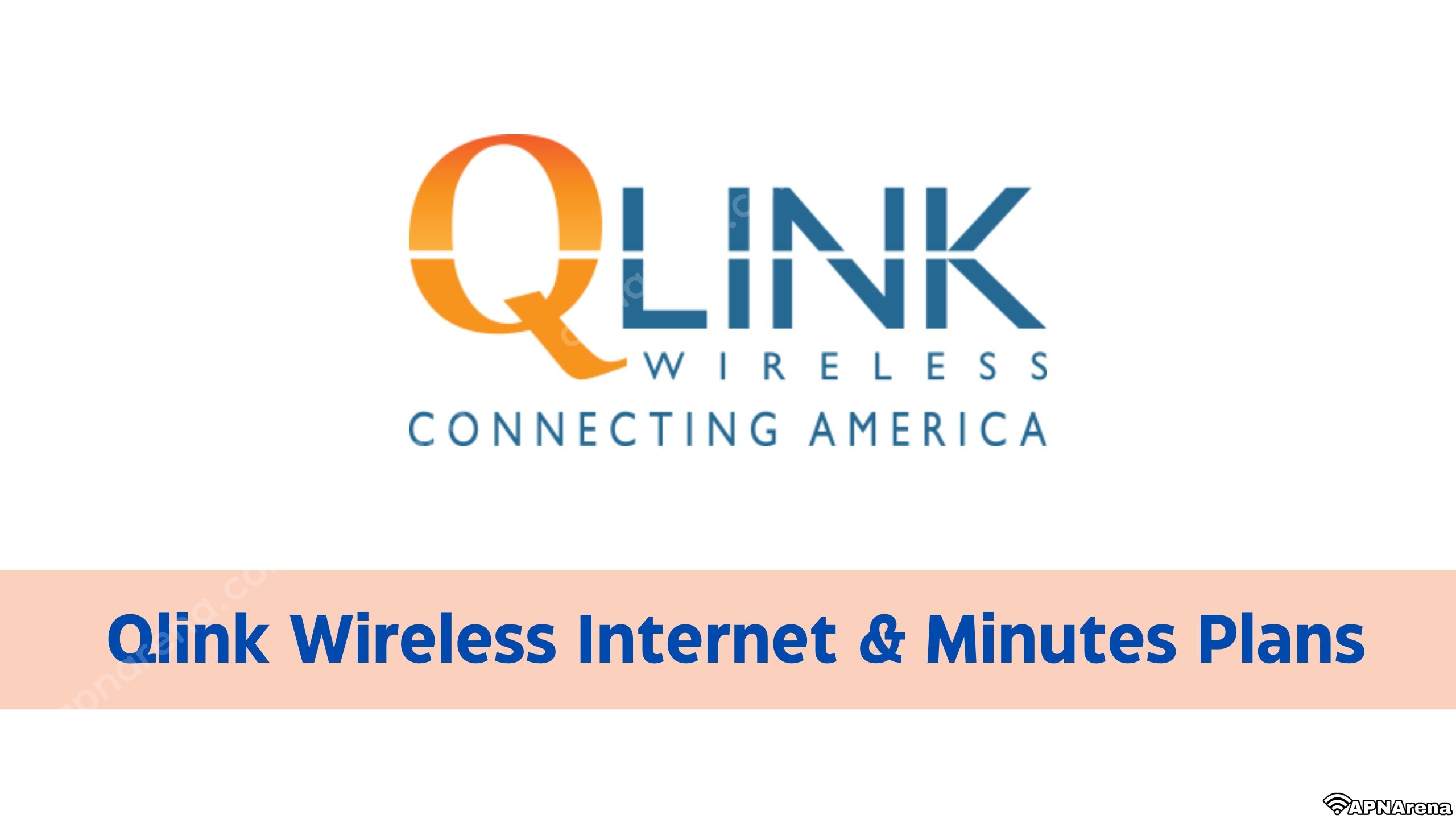 Q Link Wireless, an American telecom company, offers free wireless services to Lifeline-eligible users. They also have prepaid mobile services under Hello Mobile. Staying connected is essential today, and Qlink Wireless makes it easy with free phones, tablets, unlimited talk, data bundles, and hotspots.
In this article, I'll show you how to get free devices and great plans. Plus, I'll explain how to apply for Lifeline and the Affordable Connectivity Program (ACP), along with the benefits.
Don't forget to set up your Qlink APN settings before buying a data plan. This ensures you have uninterrupted network access and a smooth browsing experience.
Q link Wireless Lifeline & ACP Plans : Free Tablet & Unlimited Services
Lifeline is a government program that helps low-income individuals get affordable communication services. The program provides discounts on phone and internet services to help people stay connected with their family, friends, work, healthcare, job opportunities, and 911 emergency services.
The Affordable Connectivity Program (ACP) is a new government benefits program from the Federal Communications Commission (FCC) that offers discounts on monthly broadband services and connected internet devices for low-income Americans.
The program provides up to $30 off monthly broadband internet access service (or up to $75 per eligible household on Tribal lands) and up to $100 off certain connected devices.
QLink Wireless has something great for people who are part of Lifeline and Affordable Connectivity Program (ACP). Depending on which Federal program you're in, you can get one of these plans:
ACP + Lifeline Best Deal!
UNLIMITED Data.
UNLIMITED Talktime.
UNLIMITED Text.
New Tablet*
Lifeline Plan Basic
4.5 GB Data.
1000 Minutes.
UNLIMITED Text.
ACP Plan Standard
UNLIMITED Data.
1000 Minutes.
UNLIMITED Text.
New Tablet*
How to Qualify for Qlink Wireless' ACP/Lifeline Program
To enjoy the discounts and free device that Qlink offers, you must enroll in Lifeline and/or the Affordable Connectivity Program. To qualify for either of the programs you must meet at least one of the following criteria:
For the ACP program, you must have a household income at or below 200% of the Federal Poverty Guidelines. For Lifeline, the income limit is 135% or below.
Participate in one of the following government assistance programs.

Supplemental Nutrition Assistance Program (SNAP), formerly known as Food Stamps
Medicaid
Supplemental Security Income (SSI)
Federal Public Housing Assistance (FPHA)
Veterans Pension and Survivors Benefit
Any of the federal assistance programs listed above
Bureau of Indian Affairs General Assistance
Head Start (only households meeting the income qualifying standard)
Tribal Temporary Assistance for Needy Families (Tribal TANF)
Food Distribution Program on Indian Reservations
How to Apply for Qlink's Lifeline and ACP
To apply for Lifeline, follow these steps in order:
Go to the National Verifier website.
Complete the application and get approved. The process is quick and easy.
Once you're approved for Lifeline benefits, proceed as follows:
Return to the Q Link Wireless website.
Enter your ZIP Code and email address to start the application process for your free phone or tablet and service.
Make sure you have the necessary documentation ready because you'll need to upload it to the website.
QLink Wireless is available in all US states and territories, including places like the Virgin Islands, American Samoa, Guam, and the Northern Mariana Islands.
However, there is an exception: As of now, the Free tablet program is not available in Alaska. In Alaska, QLink offers prepaid cell service instead.
After your application and documents are approved:
You'll receive an email notification when your QLink Wireless free tablet or device is shipped.
They'll also provide a tracking number so you can keep an eye on the delivery.
While checking the status of your device, you might see "verified pending shipment." This means your application and phone are approved and ready to be sent.
Shipments are processed in the order they are submitted, so a little patience goes a long way.
Which Electronic Device You Can Get for Free
As an ACP subscriber under their network, you can now enjoy a new tablet along with free and unlimited cell phone service. Please note that the tablet offer varies by state.
The tablet comes equipped with the latest Bluetooth and Wi-Fi capabilities, ensuring that you stay connected wherever you go. ACP subscribers are required to pay a one-time co-pay of $10.01 to receive the tablet.
Here's a quick guide on how to make your payment and receive your new tablet.
Place your order for the ACP tablet offer with Qlink Wireless.
Pay the one-time ACP required co-pay contribution of $10.01.
Once they receive your payment, they will ship your tablet.
Keep in mind that the tablet offer is subject to availability, and shipment days may vary depending on your state.
Important Facts to Know About Lifeline
Here are some key points you should know:
Lifeline is available only to eligible consumers.
Only low-income consumers with proof of eligibility are qualified to enroll.
Only one Lifeline benefit is permitted per household.
Lifeline service is a non-transferable benefit and you may not transfer your benefit to any other person.
Why should you choose Q Link Wireless
Q Link Wireless is a trusted provider of Lifeline phone service, offering a range of benefits to its customers. Here are some of the reasons why you should apply with Q Link Wireless:
FREE 4.5G of Data
FREE 1000 Minutes of Talk
FREE UNLIMITED Texting
Nationwide coverage
National and international phone calls with a plan upgrade
No monthly bills, fees, credit checks, or contracts
Prepaid wireless cellphone service for Lifeline subscribers
With Q Link Wireless, you can enjoy these benefits and more without worrying about monthly bills or contracts. Our service is prepaid and available to Lifeline subscribers, so you can stay connected with your loved ones, work, and healthcare services.
back to menu ↑
Q link Wireless Bundle, Data, Minutes & International Packs
Qlink Bundle packs are ideal for customers who require more data and minutes than what is offered in the Lifeline Plan. These plans provide a variety of options for customers to choose from, including monthly data and minute bundles that can be added to their existing service. Select a plan from the list below.
Data
Calls
Texts
Validity
Auto Refill
Price
500 MB
Unlimited Minutes + Free International Calling
Unlimited Texts
30 Days
Not available
$15
1GB
Not available
$25
Unlimited (Hotspot not included)
Available
$30
3 GB
Only on $35
$40
5 GB
Only on $45
$50
Unlimited
Only on $55
$60
To purchase Qlink Bundle packs, visit their official website.
Qlink Minutes Packs are perfect for customers who require additional minutes to stay connected with their loved ones. Here's the list of all available plans.
| Minutes | Validity | Price |
| --- | --- | --- |
| Unlimited Minutes | 1 day | $1 |
| Unlimited Minutes | 30 days | $5 |
To purchase Qlink Minutes packs, visit their official website.
For customers who need more data to stay connected on their mobile devices, Qlink Wireless offers Data Packs as an add-on to their existing service. These packs provide a set amount of additional data that can be used for browsing, streaming, and more. Select the plan that suits you from the list below.
| Data | Validity | Auto Refill | Price |
| --- | --- | --- | --- |
| 100 MB | 30 days | Not available | $3 |
| 500 MB | 30 days | Not available | $10 |
| 1 GB | 30 days | Not available | $15 |
| 2 GB | 30 days | Only on $22.50 | $25 |
| 4 GB | 90 days | Only on $40 | $45 |
| 5 GB | 90 days | Only on $50 | $55 |
To purchase Qlink Data packs, visit their official website.
Qlink International Packs are designed for customers who travel abroad and require affordable communication options. These packs offer reduced rates for calling and texting in other countries, making it easier for customers to stay connected with their loved ones while traveling.
| Data | Plan Type | Validity | Auto Refill | Price |
| --- | --- | --- | --- | --- |
| Rate Per Minute | World Link 3 | 30 days | Available | $3 |
| Unlimited | Global Connect Unlimited | 30 days | Available | $5 |
| Rate Per Minute | World Link 3 | 30 days | Available | $5 |
| Rate Per Minute | World Link 3 | 30 days | Available | $10 |
Visit their official website to get started with your desired plan.
Frequently Asked Questions
Where can i buy Qlink minutes?

To purchase additional minutes, simply click here. Choose the desired number of minutes you wish to buy. To complete your purchase, provide your Q Link phone number and follow the instructions to finalize the checkout process.

Does Qlink have unlimited data?

Yes, Q Link Wireless offers qualifying customers FREE monthly UNLIMITED Data, Talk & Text through the Affordable Connectivity Program (ACP).

---

To sum up, Qlink Wireless makes sure you can always talk and use the internet. With free phones, tablets, unlimited talking, internet and hotspot plans, it's super easy. And if you need help paying, Lifeline and ACP are there for you. So, start now and enjoy talking and surfing hassle-free!