In this article, we'll show you how to benefit from SafetyNet Wireless' Free Phones Program. Get a free smartphone and enjoy reliable service. Say goodbye to monthly bills and contracts, thanks to Lifeline's telephone service discounts. Plus, ACP provides discounts on broadband Internet service.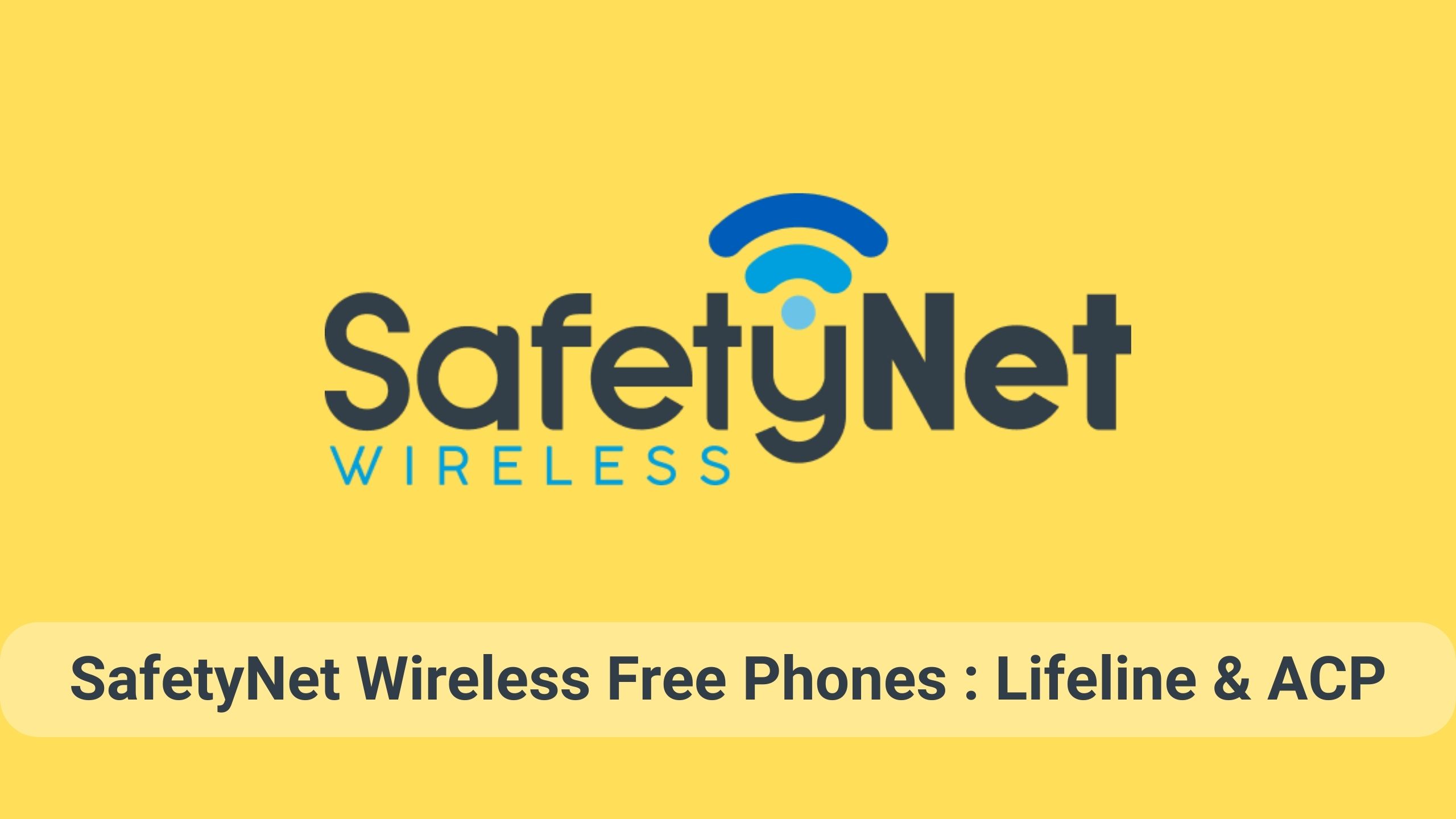 *Take a moment to set up your SafetyNet Wireless APN Settings to optimize your connection experience.
SafetyNet Wireless Lifeline and ACP Plans
Lifeline is a government program that offers discounts on your monthly phone or internet service. It's non-transferable, and only eligible consumers can enroll through the National Verifier. Each household can get one monthly service discount.
The Affordable Connectivity Program (ACP) is another government benefit that provides discounts on monthly internet access and devices for eligible households. Eligibility is determined by the National Verifier. An eligible household can receive one monthly service discount and a one-time device discount. These benefits can't be transferred to others.
SafetyNet Wireless offers Lifeline wireless plans and participates in the Affordable Connectivity Program (ACP). They provide additional benefits from both programs. While their website clearly explains the Lifeline plans they offer, finding information about their ACP compliance might require some searching. Nevertheless, eligible customers can enjoy the advantages of both Lifeline and the Affordable Connectivity Program with SafetyNet Wireless.
California Lifeline
Unlimited Talk/Text and 4.5GB Data – $0
Unlimited Talk/Text and 6GB Data – $0*
Unlimited Talk/Text and 12GB Data – $25
*Plan available after 90 days of Lifeline service with SafetyNet Wireless
Oklahoma Tribal:
Unlimited Talk/Text and 4.5GB Data – $0
Unlimited Talk/Text and 5GB Data – $1
Unlimited Talk/Text and 5.5GB Data – $5
Kentucky Lifeline
Unlimited Talk/Text and 1GB Data – $0
$25 Activation Fee
Unlimited Talk/Text 4.5GB Data – $9
$25 Activation Fee
Wisconsin Lifeline
400 Talk Unlimited Text and 100MB Data
Activation Fee $25
350 Talk, Unlimited Data and 4.5GB Data
$25 Activation Fee
Pennsylvania, Michigan, Georgia, Colorado, New York, Missouri, and Non-Tribal Oklahoma
1,000 Talk Unlimited Text and 25MB Data – $0
Activation fee: $25
350 Talk unlimited text 4.5 GB Data – $15
Activation Fee $25
Apart from their Lifeline plans, SafetyNet Wireless also offers a prepaid program, which comes with refills for additional data or talk time when needed. As all their programs include unlimited texting, there's no need to pay extra for texting.
Here are the refill options:
1 GB Data: $9.99
2 GB Data: $18.99
100 Talk or 300 Text: $4
250 Talk or 750 Text: $8
400 Talk or 1200 Text: $11
1000 Talk or 3000 Text: $19
With these refill options, you can easily add data or talk time to your plan whenever you require it.
Discounted Phone Plans with Lifeline or ACP
Incredible phone and tablet upgrades are available when you qualify for Lifeline or ACP. Take advantage of these amazing deals to enhance your mobile experience.
| Device | Upgrade Price (Starting at) |
| --- | --- |
| iPhone 7+ | $100 |
| iPhone SE | $60 |
| Samsung Galaxy S9 | $100 |
With these affordable upgrade options, you can get your hands on top-notch devices to stay connected and enjoy all the features and benefits they offer.
back to menu ↑
How to Qualify for SafetyNet Wireless Lifeline/ACP Benefits
To qualify for the SafetyNet Wireless plan, you need to be enrolled in the Lifeline and/or the Affordable Connectivity Programs. To enroll, you must meet at least one of the following requirements:
Household Income: For Lifeline, your household income must be 135% or below of the Federal Poverty Guidelines. For ACP benefits, the household income requirement is 200% or below of the Federal Poverty Guidelines.
OR
Participate in at least one of the following government assistance programs:
CalFresh, Food Stamps, or Supplemental Nutrition Assistance Program (SNAP)
Medicaid/Medi-Cal
Healthy Families Category A
Low Income Home Energy Assistance Program (LIHEAP)
Supplemental Security Income (SSI)
Federal Public Housing Assistance or Section 8
Women, Infants, and Children Program (WIC)
National School Lunch Program (NSL)
Temporary Assistance for Needy Families (TANF) – also called: CalWORKS, StanWORKS, WTW, GAIN
California Work Opportunity and Responsibility to Kids (CalWORKs)
Stanislaus County Work Opportunity and Responsibility to Kids (StanWORKs)
Welfare-to-Work (WTW)
Greater Avenues for Independence (GAIN)
Tribal TANF
Bureau of Indian Affairs General Assistance
Head Start Income Eligible (Tribal Only)
Food Distribution Program on Indian Reservations
Veterans & Survivor Benefits
Meeting any of these requirements makes you eligible to enroll in the SafetyNet Wireless plan and enjoy the benefits it offers.
To sign up with SafetyNet Wireless and receive a free smartphone with wireless service, you must meet the eligibility criteria and enroll in the Lifeline program. Here's how to get started:
Enroll in the Lifeline Program: Visit the National Verifier website to apply for Lifeline benefits. Make sure you have the required current documentation to prove your eligibility for the program.
Complete Your Application: Once you've applied and been approved for Lifeline benefits, you can proceed to the next step.
Apply for Service: Go to the SafetyNet Wireless website and apply for their wireless service. Follow the instructions provided to complete the application process.
When signing up with SafetyNet Wireless, it's crucial to ensure that your identification matches the information you provide in your application. Any discrepancies may lead to a rejection of your application.
Once your application and required documentation are approved, you'll receive your free phone and minutes based on the plan you selected.
If SafetyNet Wireless provides additional benefits through the ACP program, finding that information on their site may be challenging. It's recommended to contact a customer service representative to inquire about the additional ACP benefits and request further details. They will assist you in understanding and accessing any benefits offered through the ACP program.
This Map Provides a clear view of SafetyNet Wireless' network coverage. Stay connected wherever you are with their reliable signal, whether in cities or remote areas. Discover how SafetyNet Wireless keeps you connected seamlessly.
---
Conclusion
In a nutshell, SafetyNet Wireless' Free Phones Program with Lifeline & ACP Plans provides a budget-friendly way to stay connected. Enjoy free smartphones, reliable service, and say goodbye to monthly bills and contracts. Stay connected hassle-free with SafetyNet Wireless!